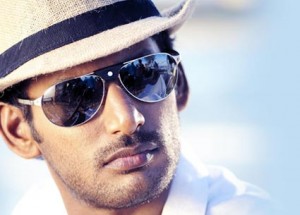 Cast: Vishal, Thrisha Krishnan, Sunaina
Directed by: Thiru
Written by: Thiru and Writer S. Ramakrishnan
Cinematography: Richard M. Nathan
Music by: Yuvan Shankar Raja
Background Score by: Dharan Kumar
Produced by: T. Ramesh
Samar is a thriller film featuring Vishal, Thrisha and Sunaina in lead roles, supported by J.D Chakravarthy and Manoj Bajpai. The film was shot on Bangkok, Thailand, Kerala and Ooty. This film will be released in Telugu titled Vetadu-Ventadu.
Coming to the review, Samar has a very strong screenplay in which every scene thrills you with thrilling twists.
Vishal named as Sakthi in the film plays a role of Trek guide. Director Azhagam Perumal plays the father role who is a Forest Ranger in this film. Sunaina (Roopa) is Sakthi's ex-girl friend. Few months later, Sakthi gets a letter from Roopa with apologies and asking to meet her at Bangkok. Sakthi starts his first foreign trip with great joy. He meets Trisha (Maya) in flight and they become good friends. The actual story begins when they reach Thailand where Sakthi is trapped and struggling to escape with the help of Maya. The confusions on screen develops as the Villains try to kill Sakthi, kidnappers ask him for money assuming Sakthi as a business man. Sakthi comes to know that he is been trapped and trying to find other Sakthi. The story has lot of twists and confusions all over.
Vishal looks confused as per the script and excels in stunt sequences as usual. Trisha is back in this film after a long gap. She does a very decent job and looks pretty. Sunaina comes in three scenes and a song. Songs in this film are average. Cinematography is good all through the film. With more twists and confusions the film turns out to be an average.