Kanna Laddu Thinna Asaiya Movie review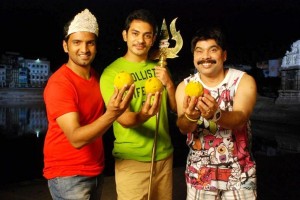 Cast: Santhanam, Srinivasan, Sethu, Vishaka
Directed by: K.S. Manikandan
Written by: Santhanam and K.S. Manikandan
Cinematography: Balasubramaniam
Music by: S. Thaman
Produced by: N. Santhanam and Ramanarayanan
Kanna Laddu Thinna Asaiya is the first production of comedian Santhanam. With unique group of star cast, this film has the success formulae of his previous films like Siva Manasula Shakthi, Boss Engira Baskaran and Oru Kal Oru Kannadi. This film is full of fun and just fun. This film is also said to be the remake of Bakiyaraj's Indru Poi Nalai Vaa.
The comedy in this film has worked out very well as you would not mind seeing it again. This film is just to make you laugh and it never fails to do so. Director Manikandan is clear in making very simple scenes with lots of humour.
Santhanam plays the main role in this film and he has given a great performance. He is the key role to make the film moving without lag till the end. Srinivasan is one of the reasons for the film to be interesting. He is named as Power throughout the film. His dance, punch dialogues and acting has helped Santhanam to make out excellent comedy throughout the film.
Other two important characters of the film are Sethu and Vishaka. There's a small love story between these two. Most importantly, the film has great supports from Kovai Sarala, VTV Ganesh, Pattimandram Raja and Devadharshini. The film has guest appearance of Young Super Star Simbhu and Director Gautham Vasudev Menon as themselves. The songs are said to be average which could be a lag in the film.
Though the film has quite repeated comedies, it never fails to make the audience laugh. Kanna Laddu Thinna Asaiya is officially the first block buster film of 2013.