Venky's new directorial venture !
The famous ad flim maker director Venky is ready with his debut with his new flim konjam coffee konjam kadhal .Hridayaraj introduced as a child artist in Mani ratnam's block buster movie Bombay. Now as a youngster has signed his new debut as a fresh hero in the film Konjam Coffee Konjam Kadhal .  A Delhi model Aditi plays as heroine, with a handful number of new faces to be introduced in Venky's new directorial venture . Also Revathy and Nasser also appear in key roles.
The film is produced by Ganeswar Tripathy, And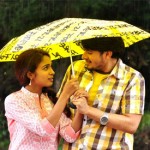 is going to treat us with his music, a new comer and assistent  A.R. Rahman. The movie has some strong technical team and had done enough rehearsals before take. And to quote that director Venky has a strong experience in his field since he has made many documentaries and has list of awards to his credit.
And as the title suggests that the story has a romantic theme and  the director says, 'it is a romantic story. The lead pair in the movie falls in love after they meet in a coffee shop. However the two face twists and turns in their lives.'