First Academy Award nomination for a Tamil Song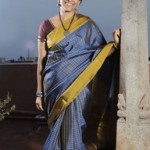 Bombay Jayashree, popular classical singer is nominated for her lullaby in Life of Pi at 85th Academy Awards 2013. The song has been written and sung by Bombay Jayashree. She is the first Carnatic singer nominated for Oscar.
Jayashree says, I was not expecting for the nomination, but I'm very much excited that the film has 11 nominations this year. I was guided by the director Ang Lee at every step while working for this song. This is a very simple lullaby that a mother could sing for her baby.